Qualcomm představil čipset Snapdragon 8+ Gen 1 jako mírný upgrade oproti běžnému 8 Gen 1 a první telefony s novou platformou dorazily v červenci. AnTuTu právě zveřejnilo svůj měsíční seznam nejvýkonnějších telefonů s Androidem a nejsme překvapeni, že první dva jsou obsazena zařízeními s novým vlajkovým čipsetem.
ROG Phone 6 Pro s 18GB RAM a 512GB úložištěm dosáhl více než 1,1 milionu, těsně následovaný dalším telefonem Asus, Zenfone 9, a poté Nubia's Red Magic 7 dceřiné společnosti ZTE také prorazily k telefonu, i když s non-Plus. čip.
Herní telefony z řad ROG, Red Magic a Black Shark patří podle očekávání mezi nejvýkonnější Androidy. Na AnTuTu vždy skórují vysoko, protože společnosti upřednostňují v současnosti výkon hardwaru a softwaru na úkor dlouhodobého výkonu.
Ačkoli AnTuTu neprozradilo, proč se Zenfone 9 podařilo dosáhnout tak vysokého skóre, lze to snadno uhodnout – Snapdragon 8+ Gen 1 si vede lépe s tepelným škrcení, což umožňuje zbytku hardwaru lépe fungovat při optimální teplotě.
Platforma také odhalila podvlajkové modely s nejlepším výkonem – jedná se o nový segment, který nabízí telefony s některými špičkovými specifikacemi, ale nejsou to nejvýkonnější zařízení v portfoliu každé společnosti. Dva telefony s Dimensity 8100 jsou na vrcholu – OnePlus 10R a Oppo Reno8 Pro 5G, následované několika zařízeními Snapdragon 870.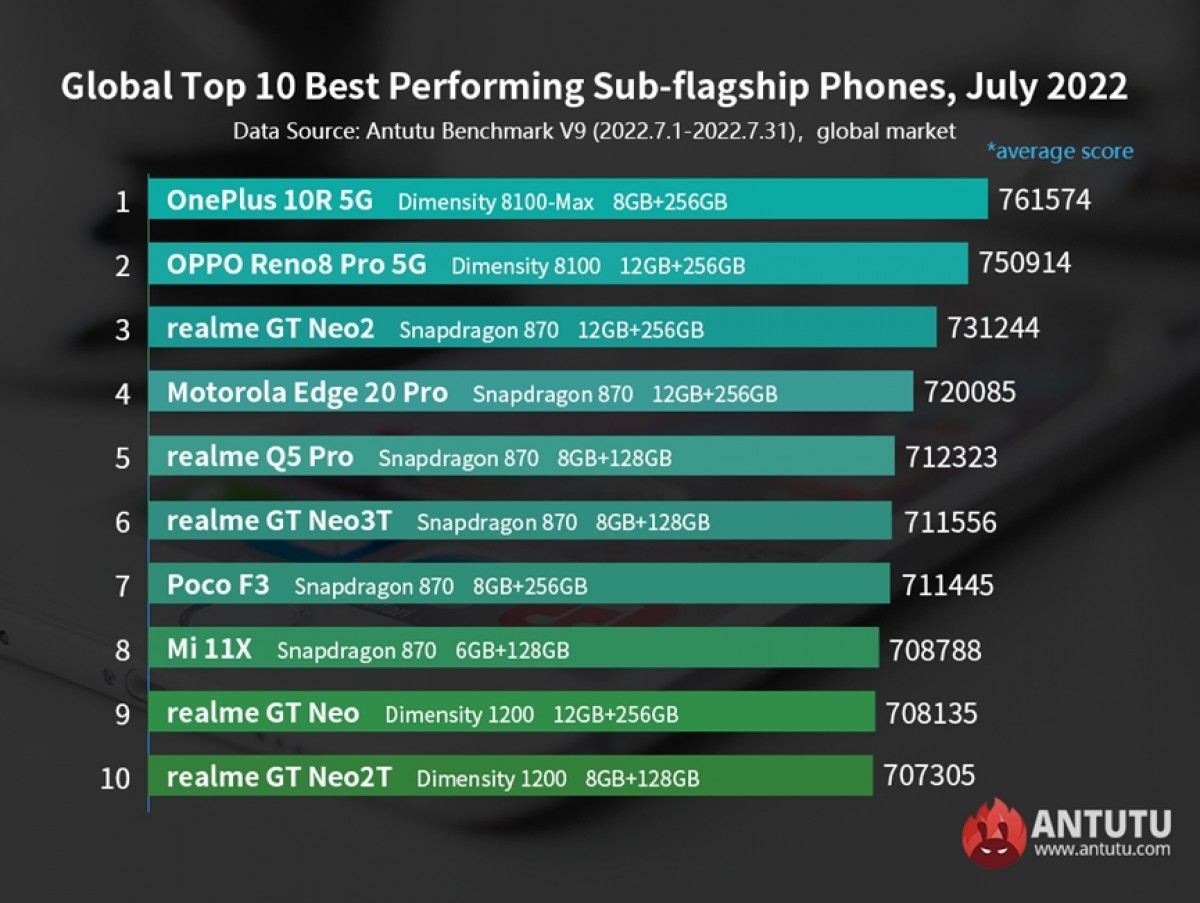 AnTuTu uvedl, že čipset Mediatek může být velmi konkurenceschopný díky 5 nm procesu a nižší spotřebě energie v kombinaci s vysokým výkonem. Čipová sada Google Tensor je výkonově podobná Snapdragonu 870, ale nedokázala zabodovat natolik, aby se telefon řady Pixel 6 dostal na první místo.
Důvod, proč AnTuTu vrhá světlo na tento segment, je kvůli inflaci a problémům souvisejícím s COVID, zákazníci raději kupují modely, které nejsou vlajkovou lodí. Trh s telefony střední třídy nebyl nikdy tak nasycený a mezi telefony střední třídy můžeme vidět řadu modelů a výrobců, i když většinu z nich pohání Snapdragon 778G/780G.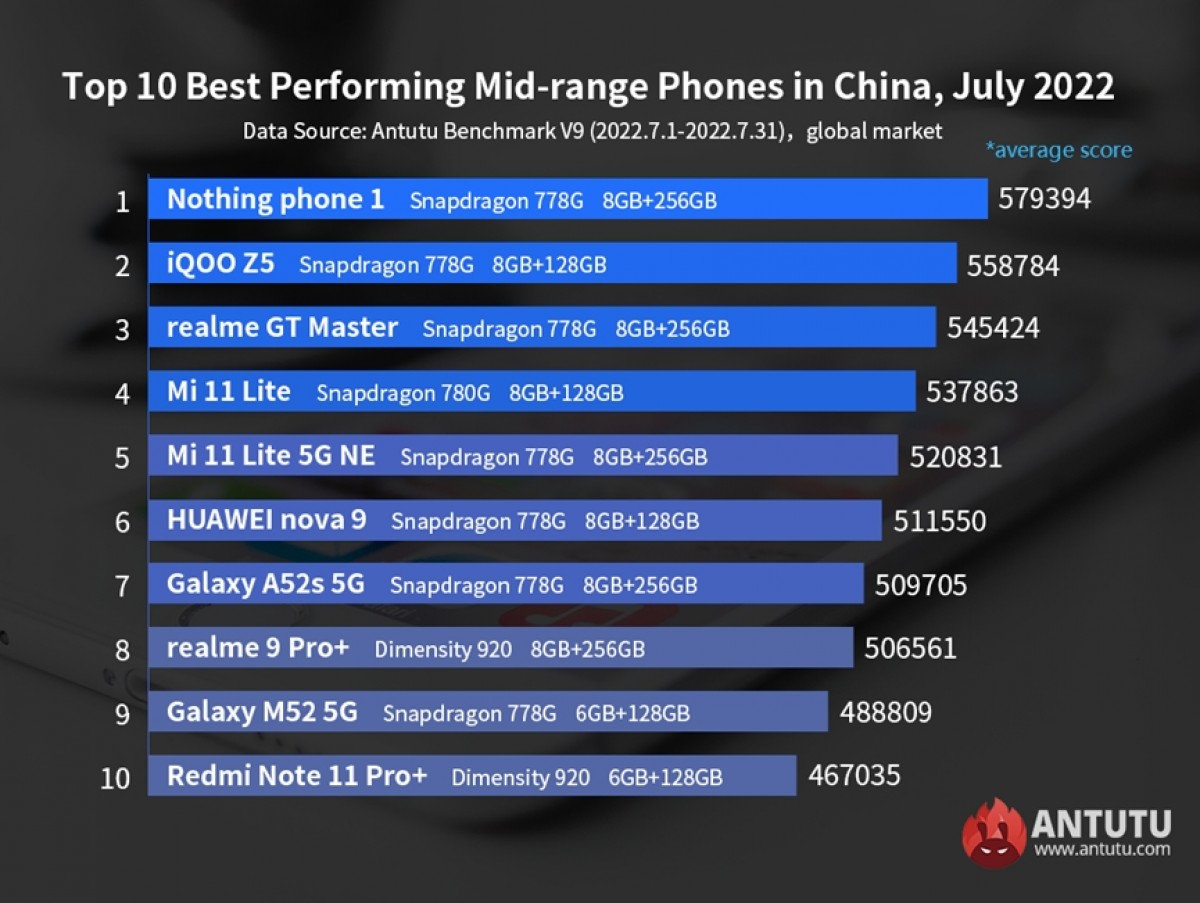 Skóre pro telefon se počítá jako průměr 1000 nejlepších benchmarků pro daný model, přičemž kombinace paměti napsaná u názvu modelu je nejvyšší dostupná na trhu a nesouvisí plně se skutečným skóre.
Očekává se, že srpnové klasifikace v oblasti vlajkových lodí se budou lišit, protože se testuje více telefonů Snapdragon 8+ Gen 1, včetně Xiaomi 12S Ultra a Red Magic 7S.
Zdroj